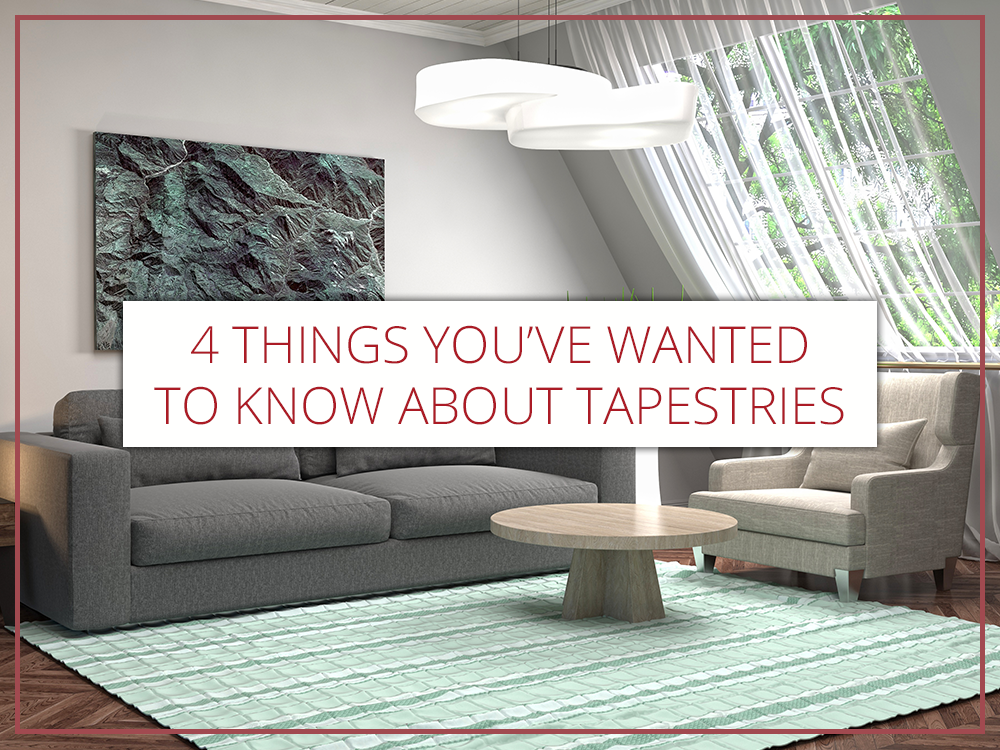 4 Things You've Wanted to Know About Tapestries
Tapestries can change a room in a bold way, offering a sense of joy to a space. Many homeowners shy away from using tapestries because they are unsure of them, so we want to answer some common questions and encourage a sense of love for these gorgeous art pieces.
What are Wall Tapestries?
A wall tapestry is a large, woven textile that displays an elaborate artistic design. Tapestries were used once upon a time to keep drafty old buildings warm in the colder months by serving as a form of illustrated insulation. Today, "tapestry" simply refers to any piece of fabric that has been designed to hang on your wall, from weavings to vintage fabrics. Tapestries are a great way to liven up any space and can be a great conversation piece.
Finding the Best Place to Hang a Tapestry
Tapestries are conversation starters and statement pieces. They are a great addition to any space but should be hung where they can make the best impact. Display your tapestry above a bed, mantle, couch or on a smaller wall where it can offer a wallpaper-like effect.
Hanging Tapestries
How do you get one of these gorgeous pieces up on the wall to stay? Below are some of the most common ways to display tapestries.
Stretch them over a frame. Opt for a wood frame or plywood board for the best effect, folding the tapestry over the frame and attaching it with a staple gun. Use sawtooth picture hangers to mount it on the wall. If you have a thin tapestry, consider stapling canvas to the frame so the wood does not show through the fabric.

Secure with Velcro. This is a great option if you live in a rental and want to avoid putting holes in the walls. Use self-adhesive Velcro tape to attach your tapestry to the wall. This is also a good method if your wall is curved or you do not want to put any holes in the fabric.

Hang it from a rod. If your tapestry has pockets in the back, hang it from a rod. If your piece is particularly large or rectangular, you can also drape it over the rod to create a faux headboard or display over a couch.

Use a baseboard if your tapestry is weighty. Opt for a board that fits in the rod pocket in the back of the tapestry.

Frame it. If your tapestry is smaller, it may be best behind glass. This will help to protect the piece while giving it a worthy display.
Caring for Tapestries
Many tapestries arrive in the mail with major wrinkle issues. Whether yours has issues from shipping or just storage, you can get them out with a steamer. If you do not happen to have a steamer, you can also use an iron to work those wrinkles out – on the COOL setting. If you need to wash it, you can typically put them in the wash on gentle cycle with cold water and dry on low. Always check for cleaning instructions for specific tapestries, however.