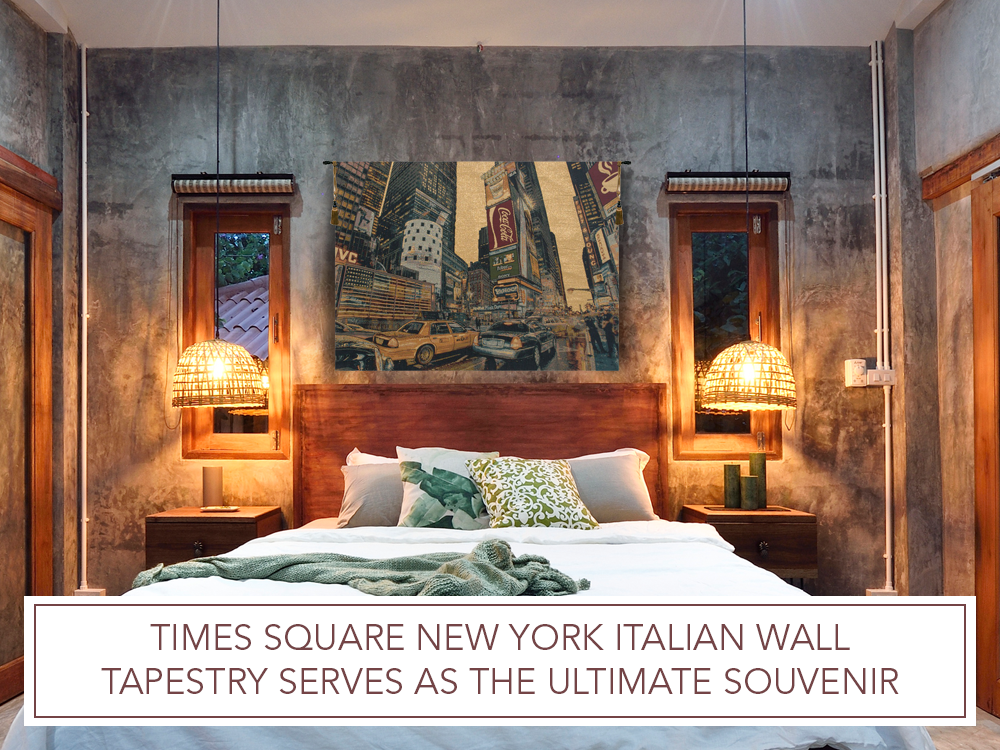 Times Square New York Italian Wall Tapestry Serves as the Ultimate Souvenir
Hang a visual reminder of your travels in a place where you'll see it often.
Who doesn't love to travel? With so many incredible destinations awaiting you, it could take a lifetime to go everywhere you want to go. Each place you visit provides warm memories of the time you spent there.
Why not make your trip to Times Square in New York City a permanent part of your interior design? It's easy with the right tapestries from Italy. Unlike canvases and framed photographs, a wall tapestry is large in size and full of personality.
Take the Times Square New York Italian Wall Tapestry as an example. It depicts the frenzied energy of a city in motion. Some iconic images are present on the luxury décor piece, too, such as the classic yellow cab, digital billboards, and corporate advertisements.
The Times Square New York Italian Wall Tapestry Stand Out Design
A well-made woven wall tapestry from Italy speaks volumes about your taste. The Times Square New York Italian Wall Tapestry consists of 73 percent cotton, 17 percent wool, 10 percent polyester, and 8 percent lurex. The colors it contains are gold, blue, green, and red.
An optional rod and tassels are available for purchase at the time of checkout. If you find that you'd like to make your tapestry stand out, even more, buying the items helps you achieve the look that you love most. Also, if you don't choose to purchase the extras, there are other ways to make the tapestry a permanent part of the wall.
How Tapestries Differ from Other Types of Wall Art
When considering the different types of wall art that exist for you to choose from, think about the amount of texture tapestries provide. Thanks to their woven design, they're unlike other types of home décor items in appearance. Not quite a blanket or rug but in a similar style as the two items, a tapestry is meant to last a very long time.
It offers greater flexibility than a stretched canvas art piece or framed photograph. Made of a material which extends the length of the wall better, tapestries provide options. They're more liberal in the coverage they offer, unlike picture frames and canvases.
A more magnificent scene plays out due to the larger size of the tapestry. The artwork isn't scaled down. Instead, it becomes a focal point in a living room or bedroom where it can be seen and enjoyed with regularity.
Choose a Souvenir That Makes a Visual Impact
If you need interior design inspiration and want to come home to a souvenir that withstands the test of time, consider the value a beautiful Italian wall tapestry brings to your home. It's big, bright, and personal. Thanks to your connection to NYC, it's full of sentimental value, too, because of the memories it brings.
Your love for New York doesn't need to remain a secret when you have exquisite tapestry designs to choose from that allow you to express your passion for the city. Display your latest souvenir with pride. After all, not everyone gets to travel the way that you do, let alone create a space inside their homes to honor their adventures.