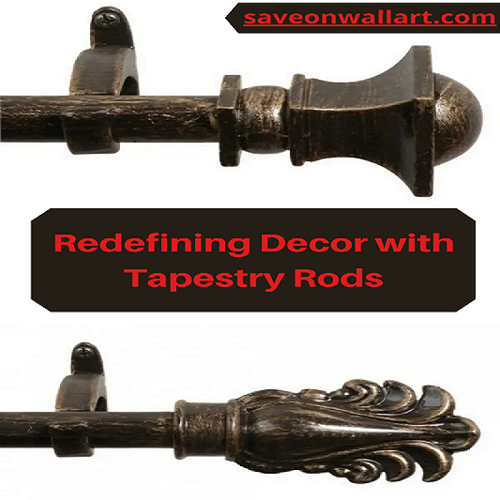 Redefining Decor with Tapestry Rods
Tapestry rods impart a touch of elegance to your living spaces. With a touch of renaissance, tapestry hanging rods would seize your heart at first glance. They can refurbish the look of your drapes, curtains, and wall hangings in a magnificent way. Available in a wide variety of styles, tapestry rods will complement your interior decor in an enhancing way.
Designed with Excellence
Whether it is your bedroom, living room, or any other corner; the curtains must look flawless. Tapestry rods are designed with excellent craftsmanship to provide a luxury touch to your curtains. Popularly known as rods and brackets, these decorative pieces are made with the finest metals that would last long. You can choose tapestry rods according to your decor. For instance, cream-colored curtains will match beautifully with Fleur De Lys Belgian Tapestry Rod. It is adorned with a fine metallic touch that would make your interiors stand out.
If you like to give a rustic feel to your walls and hangings, then tapestry hanging rods such as Fleur De Lys Antique Black Rod and Square Antique 48-84 Tapestry Hanging Rod. These hanging rods have a wooden look which provides them a sleek and royal touch. To have a taste of something new and pleasantly different, you can opt for tapestry rods such as Fancy Feather Antique Black Rod and Fancy Feather Bronze Rod. These hanging rods have an out of the box look which would surely rejuvenate your settings. Tapestry rods lend an irresistibly attractive charm to your decor, whether they are decorated with light themes or adorned with contrasting colors.
Rods for Long Lasting Decor
Designed in the USA, under the supervision of exquisite designers, tapestry rods can charmingly change the look of your basic curtain railing. Their durable material and attractive finish come with a promise of lasting life. Whether used for curtains or wall hangings, tapestry rods can be used conveniently without any hassle. Even the smallest of details can make all the difference in the decor, hence the tapestry rods should be carefully chosen to suit the contrast of the drapes.