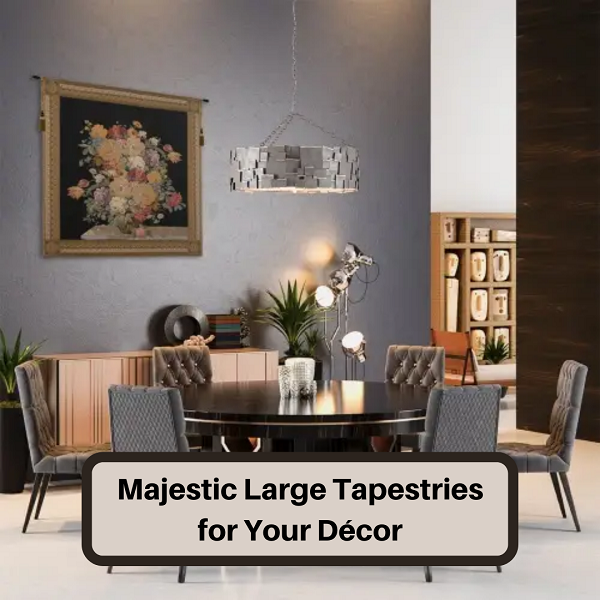 Majestic Large Tapestries for Your Décor
Large wall tapestries add a distinctly fine touch to your walls. Plains walls are no one's favorite and empty walls create a strange vacuum. Save on Wallart tapestries not just fill that void but they lend such an amazing touch to your decors that onlookers cannot resist glancing admiringly again and again.
Tapestries that make Spaces Artistically Rich
From wall art eshop, introduced by Save on Wallart, you can look through a range of tapestries to enhance your decor schemes in an unprecedented way. Whether you want to enhance the decor of your bedroom or refurbish your living room, you can pick from tapestries that reflect modern art to those which are adorned with medieval musings. Americana large tapestries are one of the most-loved selections which include Folk Art Potted Flowers Wall Tapestry. This is not just a wall tapestry, rather it is a cultural experience that you bring home. Tapestries such as Autumn Mucha Belgian Wall Tapestry, Promenade I Left Panel Belgian Wall Tapestry, Spring Mucha Belgian Wall Tapestry, and Ivy Forest Belgian Wall Tapestry say a story with their detailed portraits. The shimmering colors of large wall tapestries will transform the bland look of your walls. Intricately woven by the expert artisans, wall tapestries can also be hung by the entry door to leave a lasting impression on the guests.
The Uniqueness of African Tapestries
African artistic appeal is unique and when it comes to wall tapestries, African tapestries are unmatched. Africa Red Belgian Wall Tapestry is simply a medley of bold colors and striking artwork that will be best suited to light-colored furnishing. Africa Flanders Belgian Wall Tapestry and Euphony Wall Tapestry have an abstract aura that will lend a dash of contemporary art to your walls. Euphony Wall Tapestry can be matched with colors such as black, purple, brown, red, maroon, etc. Always iron the wall hangings lightly before using them. When transit creases are removed from your wall tapestry, it looks smooth and finer. All the tapestries offered by wall art eshop are easy to use. For washing,  follow the instructions on the packaging.