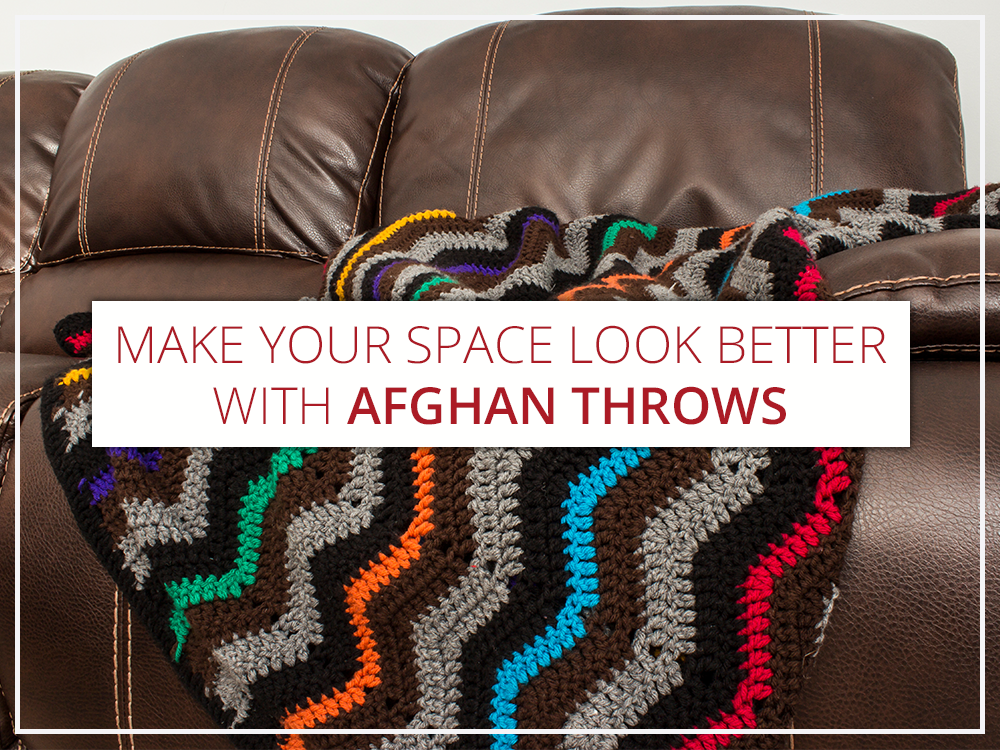 Make Your Space Look Better with Afghan Throws
Regardless of the room, style or size, throw blankets can add a touch of personality as well as a cozy, comfortable feeling. If you are looking for some fresh inspiration or some ideas to help you make use of your afghan throws, read on.
The afghan throw blanket is a cozy accessory for home furnishings. They are functional but style makers that can add color, pattern, and warmth to any space. Throws are lightweight and can be draped anywhere. Below are two main ways you can make use of your afghan throws, followed by some tips.
Two Primary Ways to Display Throw Blankets
You can never go wrong with a neatly folded blanket on the seat or arm of a couch. This is a great option if your blanket is fairly thin and has a pattern that nicely compliments your space. You can drape it on the back of your couch (folded in thirds and placed off-center), the arm, or on the seat of your couch.
Another great way to display throw blankets is by casually draping them. The effortless blanket drape looks chic and adds a bit of flair to a room when done right. This method works best with throws that are somewhat petite and thin. To accomplish this look, simply spread the throw across the back of your sofa and drape it down and into the seat. Let it sit naturally but don't be afraid to play with areas that look a little bulky, spreading them out a bit. If you find a section that just isn't working, either start over or grab a decorative pillow and cover it up.
Drape over an Ottoman
If you have a sectional, you can fold your throw blanket over an ottoman for easy access. Fold the blanket in half at the short side, making a long rectangle then lay it over your ottoman or chaise. This will add texture and is a great way to make a space cozier.
Throws on Chairs
Throws make a great protective barrier on seat cushions. If you have pets or kids, this is a great way to keep pet hair or grime off of seats. Throws are a lot easier to clean than upholstery!
You can also use afghan throws to add color to neutral chairs. Use one or two and drape it over the chair after you fold it lengthwise. Leave the tail draped over the cushion for a more casual look or tuck it under the seat cushion to secure it in place.
Throw Over your Headboard
Step up your bedroom décor game by draping a throw in a fun print over a headboard for a new look. This look works great with an upholstered headboard! If your throw seems to slip, keep it in place with Velcro.
Toss a Throw on a Bench
A throw blanket is a functional and stylish way to decorate a bench. You may need to play with the throw to get it to lay just right but the best plan of action is to simply drape it across the length of the bench or at an angle.