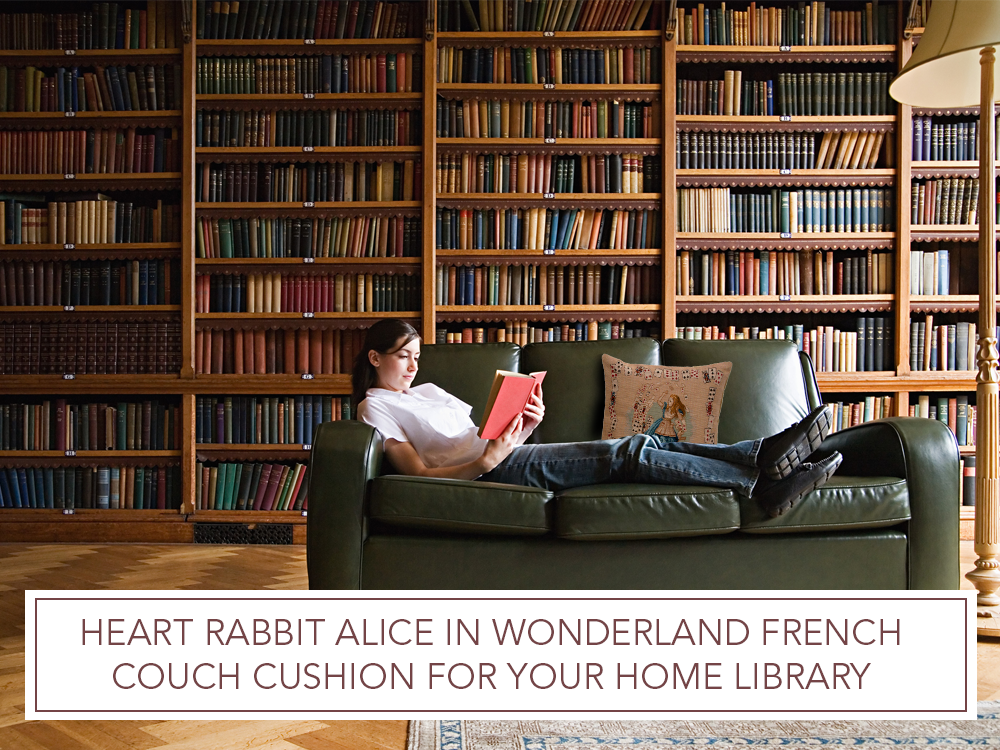 Heart Rabbit Alice In Wonderland French Couch Cushion for Your Home Library
If you love all things literature-related, there are easy ways to incorporate them into your room.
Many people choose to use their spare bedroom as a home office. You may be the exact opposite and want to showcase your extensive collection of books. Creating a home library that looks exquisite and feels welcoming is your objective. You've got the books and bookcases, so what else could you possibly need?
Luxury décor is one answer that comes to mind! If you've got the rugs, furniture, and light fixtures you find desirable placed inside your home library, you'll want to decorate with a theme that ties everything together.
How Thematic Décor Adds Your Personality to a Room
Thematic home décor trends allow room for creative expression. If you haven't thought much about how you're going to decorate your library, now is the time to do so. You've got many angles to explore, each with their level of customization. For example, you can decorate the room based on your favorite genre of books, author or even beloved character.
A rule of thumb for a home library is to make it feel as comfortable as possible. That way, the members of your family want to spend time in the room, reading, relaxing, and enjoying the space. Including overstuffed chairs, sofas, and even bean bags creates an environment fit for reading. Adding personal touches to the design of the room such as the Heart Rabbit Alice in Wonderland French Couch Cushion helps communicate your vision for the home library and tells a lot about what your likes, interests, and preferences are.
The 100 percent cotton pillow measures 19 inches by 19 inches. Woven in France with the greatest care and precision, the material is made to last. It has a beige, brown, and red color palette. The couch cushion features a classic image of the rabbit from Alice in Wonderland by Lewis Carroll.
Telling your tale becomes easier with the right decorative pillows arranged throughout your home library. It allows you to paint a picture of what you love and are interested in personally. People will know right away that you're a fan of antique illustration, whimsical stories, and a space inside the home to call your own where you can indulge in a passion of yours at any time day or night.
Storybook Home Décor Works Well in a Home Library Like Yours
Let your love for classic literature shine through with decorative pillows featuring the characters from Alice in Wonderland. It's one way to carry on a theme in your home library. Buy home décor at affordable prices and then creatively disperse the items throughout the room. You'll be amazed at how interesting a space inside your residence becomes with the inclusion of cushions with a storybook theme on them.
Having a home library gives you plenty of room to explore different ideas for décor. You'll never go wrong with a bright pillow. The Heart Rabbit Alice in Wonderland French Couch Cushion stands out due to its neutral background and pops of bright blue and red. It's an outstanding option that makes sitting for long periods comfortable thanks to its larger size and extra stuffing.