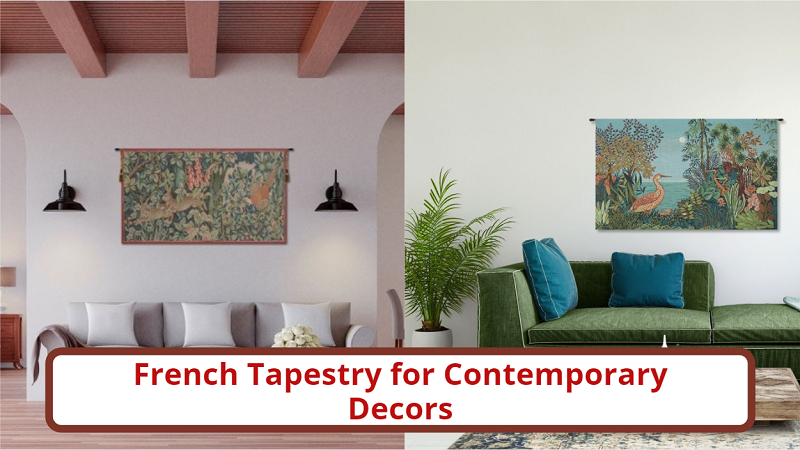 French Tapestry for Contemporary Decors
Every French tapestry tells a story of its own. If you love history and wish to bring that tale into your home while adding some vibrant hues to the home walls with some historic touch, then French wall art is the best option. Attracting kids and adults alike, a French tapestry is woven in France with a blend of cotton, polyester, and viscose.
Use of French Tapestry in Homes Today
French wall arts can transform any space into a high-end space. Hang them in different home corners to add some wonderful depth, warmth, and dimension to that space. These are also an amazing way to hide the imperfections on walls and sometimes offset the stark lines of modern architecture.
They are perfect to become the focal-center of any room and make an amazing renaissance style update while adding some fresh flair to the contemporary home décor.
Designed with intricate detailing in vibrant colors and depicting a natural theme, this woven French Tapestry is for you if you are a nature and wildlife lover. Hang it in any prominent place in your home for its historical significance and luxurious French craftsmanship.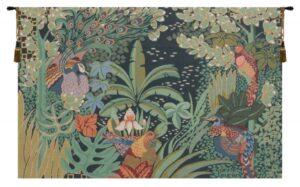 This exquisite beauty features a folding horse and a camel in floral and exotic scenery. Traditional imagery will make a marvelous addition to your home décor motif.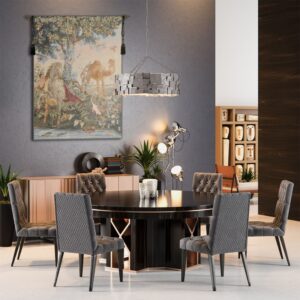 Roses French Wall Tapestry
The floral bouquet on a dark background though is French art but looks no less than modern wall art. Install this in your bedroom to add to the breezy and fresh feels.
Conclusion:
Decorating home with the antique French tapestry will add warmth and some traditional schemes to even the most contemporary style interiors. From colorful and exquisite flowers depiction to various historic depictions, explore the French wall art collections at Save on Wall Art.