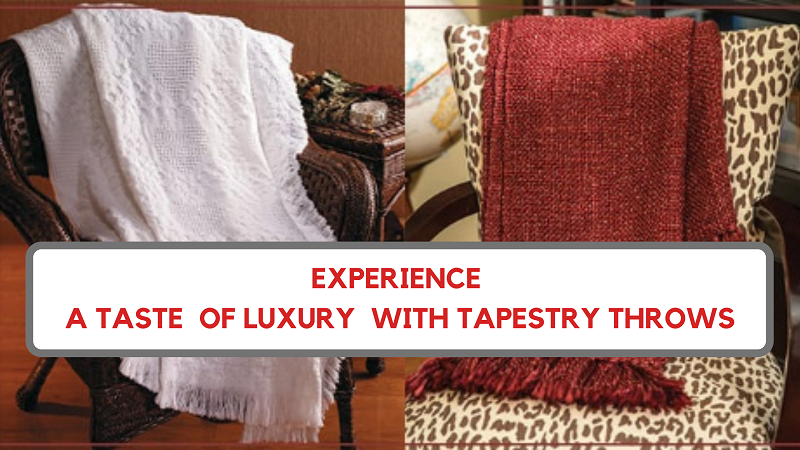 Experience a Taste of Luxury with Tapestry Throws
Featuring astonishing designs that would seize your heart at first glance, these woven tapestry throws are ecstatic. Be it your bedroom, living room or any random corner of your house; tapestry throws can redefine the look of your decor by offering a medley of warmth and beauty.  These tapestry throws are available in a versatile variety of designs and shades that make your interior decors stand out.
Well Curated Art Pieces
A wide range of tapestry throws will make a perfect addition to your home furnishings.. You can mix and match things at your pace, for instance, you can adorn white pieces of furniture with Tulip Belgian Tapestry throw or Tree of Life Brown Belgian tapestry throw. From bold colors like Black, pink, red, yellow, gold to subtle colors like beige, cream, off-white; you will find your perfect piece among tapestry throws for sofas. Woven in the USA, well-curated pieces of tapestry speak for excellence in craftsmanship.
The floral print decorative throws are perfect for floral enthusiasts to bring a natural charm in your decor schemes. . If you are an animal lover and want your spaces to be decorated in a unique way, pieces like Chat Noir Belgian tapestry throw; Lion decorative throw will be perfect for you. Religious designs lend an irresistibly attractive touch to your decor. The Lady and The Unicorn III, Angels Altarpiece Vertical Belgian Wall Tapestry, Annunciation with Gold Durex Italian Wall Tapestry are some of the finest tapestries. You can buy religious tapestry throws wholesale for gifting purposes also.
Tapestries for Prolonged Decor
The tapestry throws are crafted/fashioned with premium quality materials that would last long. Skilled craftsmen make them with their refining effect. Fine quality and stunning designs will complement your decor schemes in a wholesome way. Woven tapestry throws can enhance your decor at easy and affordable prices. You can gift floral tapestry throws to your loved ones.