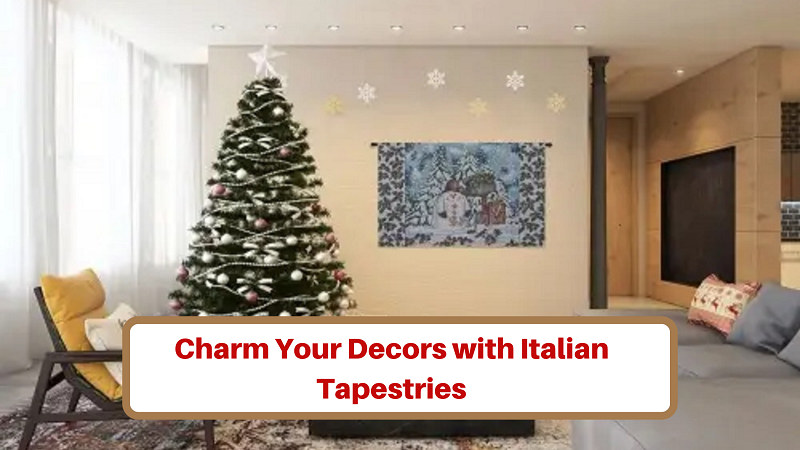 Charm Your Decors with Italian Tapestries
Wall tapestries revolutionize the look of your interiors in a magnificent way. Italian tapestry with their elegant and luxurious look truly redefine the way your spaces can look. Featuring majestic designs that would capture your heart at the first show, these Italian tapestries are ecstatic. Available in various shades and contrasts, Italian tapestry can make your interior decors look charmingly beautiful.
Well Crafted Art Pieces
An expansive range of tapestries with Italian wall art will make a perfect addition to your home decor. The decor of the house should always be an extension of your personality and life experiences. Hence you should always mix and match things at your pace, for instance, you can adorn the white and cream-colored wall with tapestries such as Ruscello Italian Wall Tapestry, Alta Marea In Piazza San Marco Italian Wall Tapestry, St. Michel Italian Tapestry, and Saint Frances From Paola Wall Tapestry. The tapestry art will leave a strong impression on guests too. Italian tapestries are available in multiple colors so you have a choice for all kinds of interiors.
There are various religious tapestries to choose from such as Pope Giovanni XXIII Italian Wall Tapestry, Christ's Thorns Coronation Italian Wall Tapestry, Madonna Del Cuscino Wall Tapestry, and Papa Wojtyla Pope John Paul II Italian Wall Tapestry. With a holy touch, religious tapestry lends an ancient feel to your wall with a dash of contemporary art.
For animal and fauna lovers, there are tapestries like Holiday Bunnies Italian Wall Tapestry and Leone Rosso Italian Wall Tapestry. Animal imprints have a refreshing touch and decorate your walls in a unique way.
Italian Art for Lasting Decors
The Italian tapestries are fashioned with premium quality materials that are durable and long-lasting. The finest skilled craftsmen of Italy design them with their refining effect. Excellent quality and stunning designs will complement your home decor in a wholesome way. Woven tapestry throws can enhance your decor at easy and reasonable prices. You can gift Italian wall tapestries to your loved ones. They are convenient to use and can be easily cleaned.