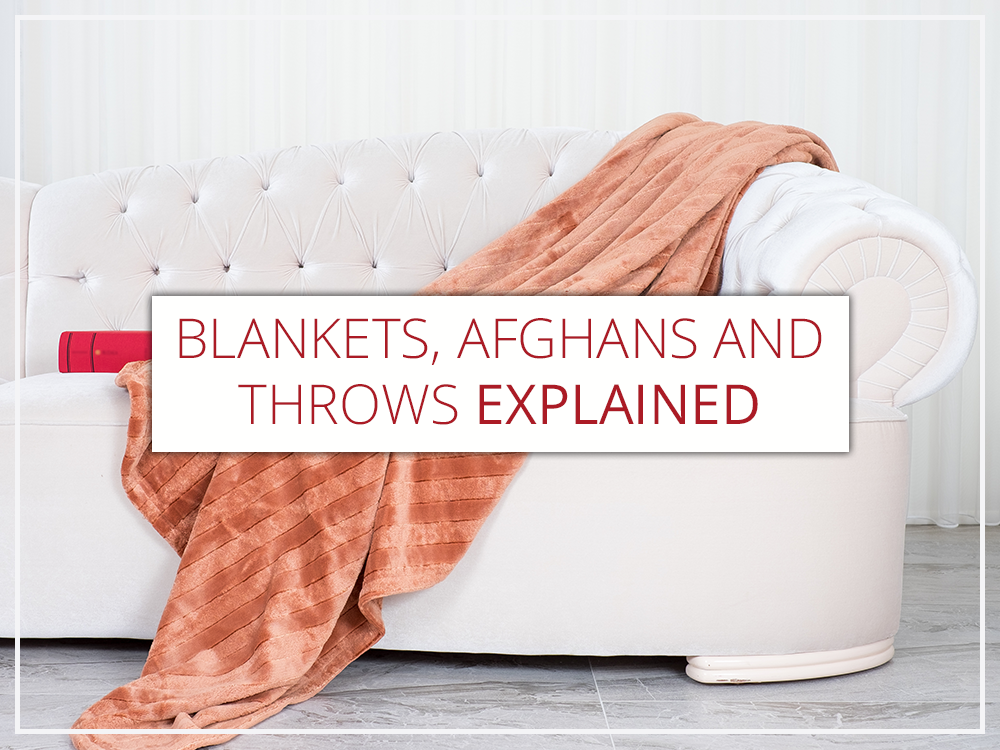 Blankets, Afghans and Throws Explained
Blankets, Afghans and Throws Explained
Blankets, afghans, and throws are all fantastic textile pieces used by a plethora of home decorators. In the simplest terms, each of these items carries the same functions. They are all decorative pieces within the home and can be used for the purpose of keeping one warm. And within each of these different styles of textiles, there are multiple variations of each. By learning the difference between blankets, afghans, and throws, you may gain a deeper appreciation and understanding of the unique qualities as well as develop a new inspiration for adding more of these items to your home.
Blankets
In general, blankets are simply large pieces of cloth. Blankets are often used as a bed covering as they are the biggest of the three. While sheets are used for comfort and hygiene, the blanket itself can add an aesthetic element while also serving the purpose of offering warmth while one relaxes or sleeps. Blankets are typically qualified as such because of their thickness and the fact that they have a fill.
Blankets can be broken down into further categories, including comforters, duvets, and quilts. Comforters are another subgroup of blankets, which are composed of an outer layer as well as filling that has been stitched strategically to keep the filling in place. Comforters are used with sheets and other blankets for a layered look while duvets are used alone. Duvets are made of down, wool, feathers or a synthetic alternative and are filled with a soft and flat bag that is kept by a removable cover. Quilts are constructed of padding enclosed between layers of fabric, which is decoratively stitched to secure the layers.
Throws
Throws are smaller versions of standard blankets. Blankets are commonly manufactured from materials like rayon, cotton, and cotton-poly blends. Unlike blankets, which are traditionally used to cover beds, throws are more often used throughout the home – most commonly in living rooms or family areas. Throws are found placed strategically over couches, armchairs and even in baby cribs. Throws are a comfortable and accessible way to stay warm while enjoying time of rest, while either sleeping, watching TV or snuggling up with a good book. Throws are usually distinguished by fringe around the edges as well as complementary patterns or trendy colors.  Outside of the bedroom, tapestry throws are often favored because they are easy to refold, clean and move from one location of a house to another.
Afghan
Afghans are similar to throws but do have subtle differences. The easiest way to differentiate between an Afghan and a throw is the purposeful holes in the patterns found in each piece. Afghan throws are often hand-stitched, crocheted or knitted and come in many different designs. Afghans were first made in Afghanistan, which is why they are given their name. Afghanistan is located in a region in the world renowned for its handcrafted textiles and carpets that are full of color. Today, the term "Afghan" also applies to shawls as well as handcrafted covers made from multicolored yarn. "Afghan throws" became a standard American term for these pieces in the early 1800s.