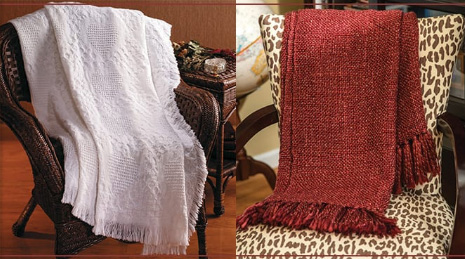 Afghan Throws
Are you looking for a way to instantly brighten up a room and add more warmth and interest? One way to improve the homey appeal of your house is by adding some afghan throws to the room. Afghan throws are both beautiful and functional, so they are a welcome addition to any room of the home. There are a few key things to consider when choosing afghans for your home.
Choosing Afghan Throws
Not all decorative blankets are the same. You will want to avoid flimsy throws that are not well made. Instead, opt for throws that look and feel luxurious. In general, throws are available in sizes that are about 68 inches by 48 inches or 70 inches by 54 inches or similar sizes. These are smaller than blankets that you would use on your bed and are made specifically for throwing over yourself while you sit on the couch.
Afghan throws are the best way to add some interest to the décor of the room. You can show your personal style by adding a throw that is distinctive to your own personality. Throws are available in a wide variety of styles and designs so there are sure to be some that fit your needs and budget. You will also be able to find throws for every member of the family.
Choose throws based on the subject or by the predominant color used in the design. View the many various choices such as blossoms, animals and wildlife, coastal, contemporary, Americana, whimsical, patterns, romance, religious and many more. There are throws that are solid colors with patterned knitting and throws with sayings or poems.
Comfortable and Comforting
There are sure to be some throws that will fit your décor and style. Throws aren't just for winter months. They are also nice to have handy during the summer when air conditioning could cause a chill. They are great for kid's rooms and for guest rooms, family rooms, and dens.
Of course, throws are also much more than a way to keep warm. While not in use you can drape them over the couch or chair as a beautiful addition to the decoration of the room. They can be useful for adding some warmth and texture to any room of the home.
In addition to choosing throws based on the category, you can also pick them by color. When you want to add a punch of accent color to a room choose a throw that has the color of choice. You can switch out throws on a seasonal basis. For example, you can use a holiday throw around Christmas. When spring comes you can add a beautiful floral springtime design to welcome the new season.
Throws also make great gifts. There are afghans to fit every person's interests and lifestyle, so you can easily find a wonderful gift for a friend or family member. Throws are pieces of art that you can move and change on a whim. Purchase several so you will always have one available in each room of your home.