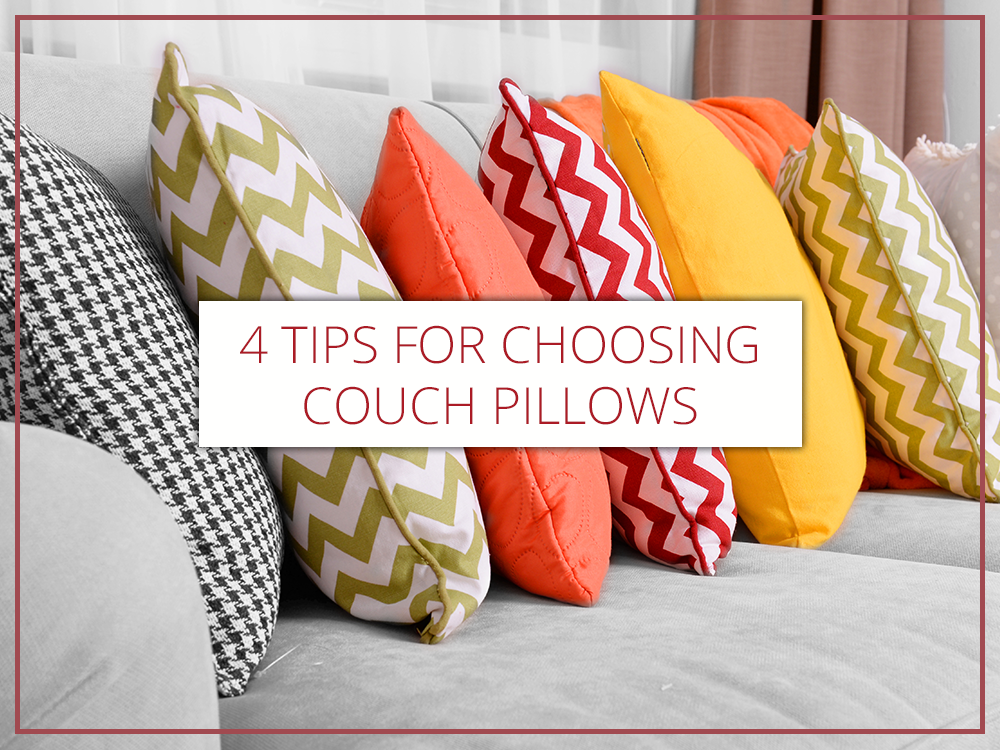 4 Tips for Choosing Couch Pillows
It is easy to breathe new life into a room by simply switching out throw pillows. By choosing a group of new colors and fabrics, new couch pillows can give your room a completely different feel. That sounds simple enough but if you have begun shopping for couch pillows, you have likely encountered the thousands of pillows available in every shade known to man. It is easy to become overwhelmed by the options – especially when you have to choose only about 4 to 5 pillows from the masses for your room. We have decided to help make the process a little easier for you by creating this guide to choosing the right couch pillows for your room.
Color
Color is usually the first thing most people consider when choosing the perfect throw pillow. The main thing to keep in mind is that your couch pillows should either be in the same shade or complementary shades. It is also important to keep in mind that accent pillow should always compliment the chair or couch it is sitting on. This means it can blend in or it can stand out. The best way to accomplish this effect is to look for something that is either similar in color to the furniture or for something completely different so it can add contrast.
Shape
Pillows come in a number of shapes. The most common are as follows:
Square – This is by far the most common shape and they look good on nearly any couch, chair or bed. They look good on their own or displayed in various sizes.

Rectangle – Rectangular pillows are the second most common and versatile in terms of shape. They look nice when placed leaning against the chair back.

Box – Box pillows may be square or round but have more depth than regular pillows. These are great for adding dimension to the spot they placed.

Bolster – Bolster pillows are the long, round pillows often found at the ends of couches. These style of pillows are less popular today and unless you need them for comfort reasons, it is better to opt for something rectangular or square as they give the room a more dated look.

Round – Round pillows do not fit all styles of furniture. Although they can look pretty on some pieces, use them sparingly.
Size
Size definitely matters when it comes to choosing the perfect couch pillow. The primary thing to keep in mind is that the pillow must always be in proportion to the piece of furniture it is on. If you place a tiny pillow in the middle of a three-seater couch, it will be lost. Similarly, if an oversize pillow is on a side chair, it can be uncomfortable and overwhelming. Make sure your pillow fits its space appropriately. Keep proportion in mind whether you have just one pillow or a collection of pillows on a single piece of furniture.
Mixing Patterns
Mixing patterns is a fun way to add character to your space, but you should be cautious when mixing them. Adding too much can make a space feel too busy. Consider one simple (or small) print, one solid and one busy (or big) print as a basic formula to help you narrow down your options.